Jayleen Lupian
Lead Physical Therapist Aide
I grew up in Chino Hills and Fontana, and I am currently attending California State University, Fullerton receiving a Bachelor of Science in Kinesiology. I have been working here as an aide for over a year now! I have gained so much knowledge about the physical therapy world through Empower Physical Therapy. They are all excellent physical therapists who truly care for their patients and provide the best treatment possible to see them succeed.
The core values that drive me in life are be kind to others, respect yourself and others, and work hard in every circumstance.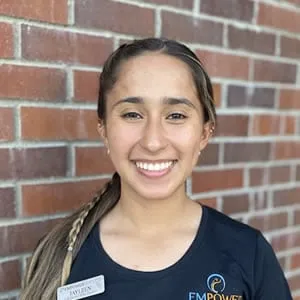 "If it's meant to be, it's meant to be."
As a physical therapist aide, I work with patients by taking them through stretches and strengthening exercises. I am here to empower all patients as they continue on their journey through physical therapy. Something that patients have to deal with is doubt at the beginning of their treatment. Most patients don't understand what physical therapy is and what it does. However, just telling all patients that with great physical therapists, hard work, and determination, their treatment will be successful.
Working at Empower Physical Therapy has brought so much joy and knowledge to my life. Everyone is always so willing to learn, to teach, and the positive energy within this clinic is the best part about it all. We all truly do care for each and every one of our patients, and we are willing to do whatever it takes to get our patients to feel like their normal self again.
What is Jayleen Watching, Reading or Listening to?
All of the "Cars" movies
Luca (Movie)
The Outsiders by S. E. Hinton (Book)

La Platica (Podcast)
When I am not working, I enjoy watching sports like basketball, football, soccer, and baseball. I also love going to the gym, traveling, going to disney, and spending time with family (and my dogs)!