Lisa Patel Sayo, MA OTR/L
Co-Founder
I was born and raised in Southern California. I graduated from the University of California, Irvine with a Bachelors of Science in both Biology and Psychology. In 2004, I went on to graduate from the University of Southern California with my Master's degree in Occupational Therapy. I have practiced in multiple settings including inpatient acute, orthopedic, neurological rehabilitation, pediatric clinical, and school-based therapy as well as woman's pelvic floor incontinence.
Patience is not the ability to wait, but the ability to keep a good attitude while waiting.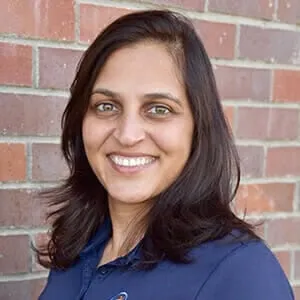 I am so excited to help grow the clinic so we can help more people in the Chino Valley!
I enjoy providing our community with a clinic that truly cares about their health and wellness.
I love hearing about all the wonderful changes our patients go thru when they work with our team!
What is Dr. Lisa Watching, Reading, or Listening to?
Emily in Paris
Grey's Anatomy
Avengers
Any good rom-com!
When I am not at work some of the things I enjoy doing are traveling, exercising, and volunteering at my kid's school.
Lisa and Empower Team, I want to thank you for a great experience! Most importantly for having the passion for what you all do. Everyone on your team exudes it. As a firefighters who has been on the job for 26 years, it gave me joy to see the customer service that was provided at Empower. Customer service is very important in my career as it in is yours, because we see and help people at their most fragile time. It was evident the first day I showed up that everyone on your team was attentive and caring to the need of your patients. I came to Empower with a popping in my lower back and pain at the onset of my day. Your attentive and awesome team started me on a plan that would soon have the popping and ultimately the early morning pain subside. Everyone on your team worked with me and helped me on my road to recovery. They led and I followed! It was lots of hard work and consistency that helped me recover. I wasn't the only one on this path. Every session that I came in for, there were other patients on the same journey, getting the same professional treatment. I have had 2 injuries in my 26 year career, torn plantar fasciitis and my lower back injury. I regret not ever doing physical therapy for my torn plantar fasciitis. After coming in for my lower back injury I was educated by your staff on the importance of recovery through physical therapy. I want to sincerely thank you all for the compassion, professionalism and pride that you bring to Empower every day. As a patient I felt it, saw it and lived it. They say if you love what you do you will never work a day in your life. I felt that from your staff every time I showed up! They really enjoy their environment! Thank you for the retirement surprise! That made my day and added to my week! – George Rojas